On August 27, 2021, VINAHUD Urban and Housing Development Invesment Joint Stock Company and BCG Land Joint Stock Company, and Transport and Industry Development Investment Joint Stock Company (TRACODI) signed a strategic cooperation agreement through an online platform.
In order to maximize their strengths, support one another and contribute to promoting the growth of all three parties in many aspects, while also improving the potential, strength and reputation in the market, VINAHUD, BCG Land, Tracodi discussed and agreed on a collaboration and development of projects in Vietnam.
At the strategic cooperation agreement signing ceremony, representatives of three companies, Ms. Nguyen Thi Ngoc Oanh, General Director of Vinahud, Mr. Vo Manh Tin, General Director of BCG Land Joint Stock Company, and Mr. Bui Thien Phuong Dong, Member of the Board of Directors as well as General Director of Tracodi Company, signed the agreement. Specifically, BCG Land and VINAHUD will collaborate to develop projects from the Central to the North, with Tracodi serving as General Contractor to oversee construction.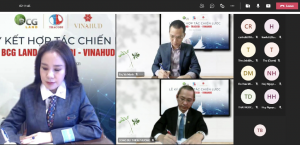 The strategic cooperation agreement serves as the foundation for the three parties to collaborate on developing a thorough cooperation plan that would maximize the three parties' resources and advantages in order to accomplish the set objectives. At the ceremony, the leaders of the three parties expressed their joy and belief that the strategic cooperation signing event would create opportunities for the three parties' development and suggested that, following the signing of the cooperation agreement, the three parties' relevant affiliated units would promote the signing of contracts with each specific content to hasten the implementation of cooperation activities. This collaboration is a starting point toward the development of high-quality real estate products and projects that provide value and benefit the community and society.
VINAHUD Urban and Housing Development Investment Joint Stock Company (VINAHUD) is a well-known name in Vietnam's real estate market. Founded in 2007, it was previously known as the Management Board of Vinaconex Housing Development Construction Investment Project, which was a subsidiary of the Vietnam Construction and Import-Export Joint Stock Corporation – Vinaconex. VINAHUD has grown significantly over the last 14 years, becoming a corporation functioning in a variety of fields. VINAHUD concentrates its efforts on three primary areas: real estate investment and business, project management consultancy, and construction.
BCG Land Joint Stock Company (BCG Land) is a key member of the Bamboo Capital Group. It is a real estate company focusing on resort real estate and luxury apartments in prime locations across the country. BCD Land inherits the parent company's success and significant financial potential, as well as an experienced management team from many nations throughout the world. BCG Land is affirming its position and reputation in the Vietnamese real estate market. BCG Land has gained a name for itself through the projects such as King Crown Village, King Crown Infinity, King Crown Park, King Crown City, Radisson Blu Hoi An, Hoi An D'or, Casa Marina Premium, Casa Marina Mui Ne, etc.
Transport and Industry Development Investment JSC (TRACODI) was founded in 1990 and was formally listed on the Ho Chi Minh City Stock Exchange on May 26, 2017, under the ticker symbol TCD. Tracodi's main segments include infrastructure construction, civil and industrial construction, quarrying, trade, labor export, and water treatment technology (MET). The total value of the company's assets exceeded VND 6,857.8 billion, and the current charter capital was VND 872,091,520,000.