On February 24, VINAHUD Urban and Housing Development Investment Joint Stock Company (VHD) and Century Land Joint Stock Company – Cen Land (CRE) attended a ceremony in Ha Noi to sign a strategic cooperation agreement. The signed agreement establishes Cen Land as a strategic partner in the investment, business development, distribution, and marketing of VINAHUD's real estate projects.
At the ceremony, the two units signed a cooperation agreement to develop three projects: an eco-urban area, amusement park Vien Nam (Ky Son, Hoa Binh), the Parahills project (Cao Phong, Hoa Binh), and the Tien Phong Flower Village project (Me Linh). These three developments are scheduled to open in the second and third quarters of 2022, with Cen Land serving as the exclusive marketing and distribution partner.
"We believe that today's strategic cooperation will enable VINAHUD and Cen Land to leverage their respective strengths and create new value for businesses and society," said Mr. Truong Quang Minh, Chairman of VINAHUD's Board of Directors.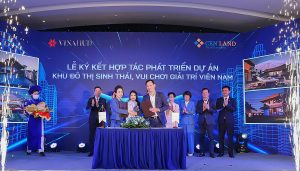 Cen Land and VINAHUD signed a cooperation agreement to develop three projects in Hoa Binh and Me Linh.
Following the completion of the aforementioned projects, the two units will continue to collaborate and research on a variety of new projects in the future.
"Cen Land is honored to collaborate with VINAHUD on numerous projects. We are committed to assisting VINAHUD in achieving its objective of developing and creating high-quality real estate products," Mr. Vuong Van Tuong, Vice Chairman of Cen Invest's Board of Directors said.
Cen Land has over two decades of experience in investment, product development, and value chain engagement in real estate. The organization employs over 5,000 brokerage specialists and tens of thousands of real estate agents. Cen Land reached revenue of VND 5,756 billion in 2021, a 2.5-fold increase over 2020, and profit after corporate income tax of VND 450 billion.
VINAHUD is active in the real estate investment and business sectors, as well as project management consultancy and construction. VINAHUD was founded in 2007 and has created and managed a number of significant investment projects, including the Trung Hoa – Nhan Chinh new urban area, the 536A Minh Khai project, the Bac An Khanh new urban area, and the Grand Mercure Hoi An project, etc.