On the afternoon of November 28, the investor Xuan Phu Hai Investment and Construction Joint Stock Company and the project developer Vinahud Urban and Housing Development Investment Joint Stock Company solemnly held a signing trategic cooperation ceremony and opening of model villas of Grand Mercure Hoi An project.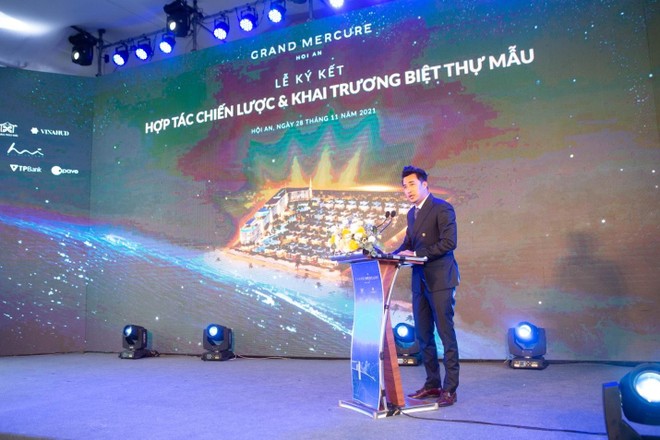 Mr. Tran Thai Duy – Deputy Chairman of the Board of Directors of Xuan Phu Hai Investment and Construction Joint Stock Company spoke at the ceremony.
Officially launched model villa by An Bang beach
"This is not only an opportunity for customers interested in Grand Mercure Hoi An to be "eyewitness" a 5-star fully furnished beach villa according to Accor Group's operating standards, but also witness the investment methodical and serious investment of the investor and partner units with the desire to bring high-class and quality villas." Mr. Tran Thai Duy – Vice Chairman of the Board of Directors of Xuan Phu Hai Investment and Construction Joint Stock Company said.
Since its launch, Grand Mercure Hoi An has been likened by the real estate community as "Constellation between the two heritage regions" when creating a high-class resort space on An Bang beach – Top 50 most beautiful beaches. planet as voted by CNNGo.
With a scale of 7 hectares with 118 villas and 785 hotel rooms with sea view and a series of high-class facilities according to 5-star international standards, such as Nature Silk Pool nearly 300 meters long, skybar, infinity pool , the upper garden…
The villas in the project attract customers by the delicate combination of Italian architectural features, luxurious dome images, and indigenous Indochinese style with cement tiles and delicate Green Marble materials. Exquisite villa interior and high-class handover materials are often used for 5-6 star hotel chains such as Amanoi, Intercontinental …
The model villa with direct sea view is arranged in harmony with a large garden, both optimizing private space and taking advantage of the green space of the garden with tropical plants, bringing its own characteristics to the land of Quang Nam. .
Each villa has its own private swimming pool of 27 m2, especially the entire swimming pool is applied with environmentally friendly and healthy salt electrolysis water treatment technology.
Optimizing value from the "big guys"
Also at the event, Investor Xuan Phu Hai signed a cooperation agreement with strategic partners of the project such as Tien Phong Commercial Joint Stock Bank, general contractor for construction Fecon Joint Stock Company and supervision consultant partner. and Project Manager of Apave Asia Pacific Co., Ltd.
If the location, utility or reputation of the investor and the operator are essential, the bank's guarantee and support not only helps to solve the financial problem for investors but also strengthens customer's convictions, becoming a fulcrum for them to safely choose each real estate product in general and resort real estate in particular.
The cooperation between investor Xuan Phu Hai and TPBank not only marks an important step in the process of bringing Grand Mercure Hoi An villas to the market, but also optimally brings financial solutions help customers feel secure to invest in potential beachfront resort real estate products such as projects.
As one of the leading prestigious joint stock commercial banks in Vietnam, Tien Phong Bank will create a strong synergistic value of external forces, providing a solid financial support foundation for the project.
"In addition, with the companionship of the General Contractor – FECON Joint Stock Company, the Apave project management and supervision consultant, we believe that Grand Mercure will have success far beyond the previous period. hope" – Mr. Tran Thai Duy added.
The inherent advantages of the project from location, design, luxury utilities, "handshake" with big brands will create the motivation to make the project become an attractive destination in the middle of Hoi An heritage region.