Having more than 20 years of operation in the banking and finance industry and real estate, Mr. Tran Khanh Quang, General Director of Viet An Hoa Company, said that in 2022, the real estate market will converge both. risk and risk. In which, the opportunity comes from the stimulus to economic demand and the risk comes from the consequences of land fever waves forming price bubbles.
Mr. Quang forecast that in the next 12 months, real estate will receive many push from public investment disbursement and economic stimulus packages injected into the market. The fear of cheap money can make real estate continue to be the channel to attract cash flow of capital market (long-term capital) investors. Growth opportunities of the residential real estate market and land-attached assets in 2022 will be higher than in 2021.
CEO Viet An Hoa analyzed that the Thu Thiem land auctions at the end of 2021 will have a great influence on the real estate market in Ho Chi Minh City and surrounding areas in 2022. The auction winner dropped the deposit, but 20% of investors still believed that the record price of 2.4 billion VND per m2 was real. This will make the high-end, luxury and luxury real estate markets continue to appreciate. After the fourth epidemic, groups of investors with financial potential tend to prefer second property ownership. The segment of garden houses (low cost suburban or remote land) and mainland resort real estate therefore have a good opportunity to attract capital.
Besides a number of opportunities gradually revealed, according to Mr. Quang, the real estate market in 2022 also has many potential risks of concern. That is the heat from the increase in housing prices due to the impact of the Thu Thiem land auctions from 2021 to 2022, causing property prices to skyrocket. This makes land fever and real estate bubble have fragile boundaries, the market may have a price bubble in the third quarter. In addition, challenges for real estate investors and developers may increase when banks will tighten real estate credit, policies related to the real estate market, especially taxes, will be tighter than before.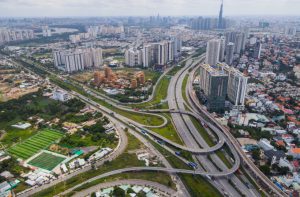 Mr. Pham Lam, Vice Chairman of the Real Estate Brokers Association also believes that the Government's push to disburse public investment and inject large-scale economic stimulus packages into the market can help Real estate industry benefits double. The first benefit is that public investment disbursement can support the real estate market through transport infrastructure projects connecting the region, helping assets increase in value. The second benefit is the recovery of economic stimulus packages, contributing to increasing consumption, improving purchasing power, and boosting the demand for home ownership for both residential and investment purposes.
In addition, the Government's consideration of amending and supplementing many laws related to real estate, according to Mr. Lam, can help the real estate market untangle its existence for many years, stimulating open up supply and create an opportunity to free up inventory.
However, Mr. Lam admits the challenge of the real estate market in 2022 is not small. The first challenge is that the housing market is out of phase with supply and demand, with a shortage of low-priced houses and an excess of high-priced houses. The second challenge is the recovery after the second epidemic