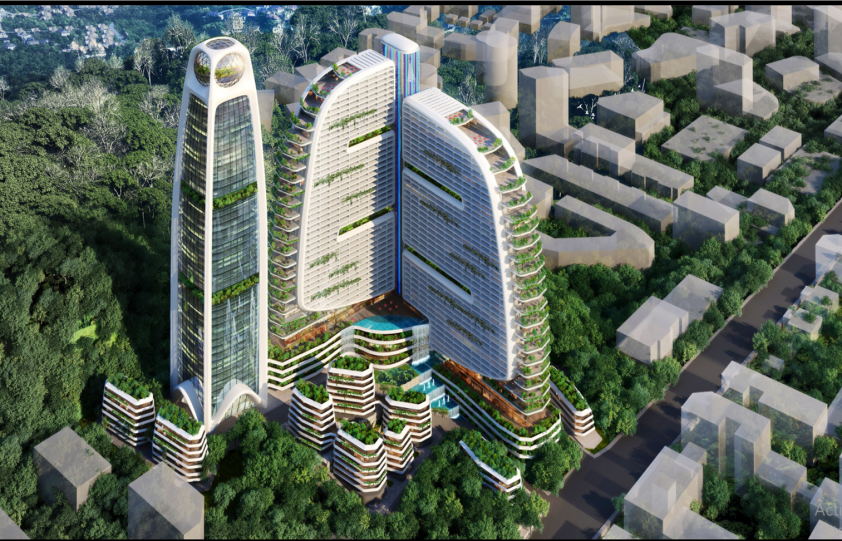 Hotel tourist area, tourist service, Bai Chay ward, Ha Long city, Quang Ninh province.

32.365 m2

300 hotel rooms, 2863 tourist apartments Segment: Hotel area, marine tourism services Product: condotel, hotel Internal facilities: Airy walking street Sky Walk, airborne observatory Sky View, Restaurant, intenational conference area, Sky Bar, Infinity swimming pool, garden coffee, terrace. Role of participation: investor, project developer

Investor, Project developer
Located on Hau Can street in a low hill stretching gently toward the sea in Bai Chay area, on a moderate height, with entire sweeping view of the Ha Long Bay, Project own the position of "lean on the mountain, face with the river", bringing prosperty acording to the feng-shui thinking and symbolic sustainable design. Project is a "airborne wonder" – satisfying the aspirations of elite investors for a luxury resort real estate project on the potential bay. 
With the outstanding advantage of geographic heights, Son Long Ha Long Hotel & Resort offers upper class visitors with different tastes a relax experience that converges the peak factors – from the height of the tower with the unlimited panorama view to the high quality service with 4-5 star hotel system. With a series of selective utilities and touch point connecting with nature of the majestic heritage city, Project is the uinique wonder with a high level of expensive resort, satisfying each individual in its own non-specific floor.